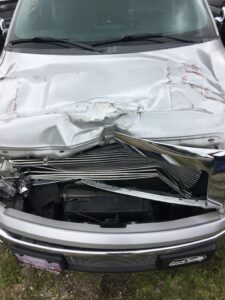 On August 16th Keith and I left Ocala to start the next leg of our travel journey. The plan was to drive from Florida to South Carolina to stay in a Thousand Trails campground for a night and then may our way north to Ohio. Sadly, we never made it out of Jacksonville.
As we were entering Jacksonville, a substantial red truck slammed on his brakes, and we weren't able to stop fast enough even with the trailer brake engaged. We ended up hitting the truck in front of us and going up under the back of the truck. It was pretty scary, but thankfully we weren't going very fast, and no one was hurt.
The guy driving the truck pulled over and informed us he didn't even realize we hit him. All the cars in front of him entering the interstate from the on-ramp slammed on their brakes. Which caused him to slam on his and then we slammed on ours. He remembered seeing us awhile back and just happened to look in the side mirror to see if we were ok. That is when he realized we hit him. Otherwise, he says he would have kept driving.
The Florida State Patrol showed up along with a Florida roadside assistant service worker. The dogs and I stayed in the truck while Keith dealt with talking to the police officer. I called the insurance and Good Sam to start working on our towing options. Keith turned the truck off as it was not able to drive anymore.
Long story short, we got a $164 ticket, which bummed me out. I asked the cop why we had to get a ticket as the situation was bad enough. The police claimed the law requires it. I don't know, maybe he does, but it was pretty disappointing. Good Sam tried to help us arrange a tow truck to tow our trailer to somewhere close. They wanted to take it to a gas station parking lot, but I didn't like that idea. We had no idea how long it would be there with our truck being out of commission. I managed to find a naval base nearby on the Military Campground website. Keith called them, and they agreed to take us. We found a break!
The tow truck driver was great. He put us and the two dogs in his truck and towed Annie Too to the naval base. They allowed us to store her in their "for sale" lot, which worked out perfectly. (In the end, they didn't even charge us. Thank you Naval Air Station Jacksonville.)
Fast forward to now, the truck is in the process of being fixed. We thought it was going to be totaled, but USAA changed their stance on the damage. We should have it back in a month. The trailer we picked up after some fantastic friends in South Carolina allowed us to use their truck to pick her up and take her to Ohio.
Keith has had some crazy travel within the last month, let me share that with you.
We headed back to Ocala, where we stayed for five days.
He flew from Gainsville to Myrtle Beach at 6 am to pick up the truck
He then drove back to Ocala the same day.
The next day, we then drove to Jacksonville to pick up Annie Too at the base.
We hooked up Annie Too and drove to Fair Play, SC, where we stayed one night in an RV park.
The next day we drove to Ohio, where we stored Annie Too.
The following day, Keith drove the truck back to its owners in Myrtle Beach, SC.
He stayed the night in SC and then arrived in Myrtle Beach that next morning.
He flew back to Ohio that day.
(Thank you, Delta for taking care of him on his flights.)
He was exhausted, but he was able to get us back on schedule for house and dog sitting at my Dad's place in Ohio.
Stay safe out there and happy travels!