Keith and I planned this cruise over a year ago and weren't sure what to expect as we were visiting cities and countries we had never been to before. We left out of Amsterdam on Royal Caribbean, which if you've been reading our blog, you know we loved. Then we had a day at sea to relax as we headed towards Denmark.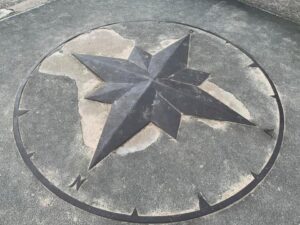 The first port we visited was Skagen, Denmark, a small fishing town. We went to the most northern point of Denmark and were able to see where the Atlantic and the Baltic meet. We both feel we are glad we went to Skagen,  but now that we have been, we don't need to go back to explore more.
After leaving Skagen, we had another day at sea as we headed to Estonia. While at sea we typically go to the spa, see shows, do a wine tasting or find a quiet place to read.
Surprised By Estonia
Tallinn, Estonia was one of those surprise towns. Keith and I didn't know what to expect but were amazed at what we saw. We opted to take a bike and food tour of the city through Viator, which took us to some great spots around the city. Our journey started at a cool brewery for traditional soup, and then we biked along the waterway to learn some history and later on to an open-air market to gather food for our last stop at a local hostel. The food at the market was terrific. Our guide bought delicious local bread, cheese, veggies, meats, and berries. Our group was also excellent, so that made the day extra fun.
Touring St. Petersburg
The cruise stopped in St. Petersburg, Russia, for two days. I signed up for a full 2-day tour of the city with all of the major sights. I opted for the trip not with the ship as I found one on Viator that was significantly less and still stopped at all the major sights. Keith and I managed to see quite a lot in those two days. The tour had a great group of people, which made it so much fun. Some of the sights we saw were: the Peterhof Palace, Catherine Palace, and Park, Razvodnaya st., the Subway System, St. Isaac's Cathedral, Church of Spilt Blood, The Hermitage (we went when no one was there, it was fabulous!). The subway was magnificent, and you can see still remnants of communist Russia. I smiled at a lady on the tube, but she wasn't having any of it. She just kept staring at me the whole ride. Oh well, I tried. It is a beautiful city with a lot of history. If we go back, I'd like to see Moscow.
Panoramic Helsinki
Helsinki, Finland was a beautiful port and their main port area was under some renovation and supposedly going to be the up and coming area next year. We signed up through the ship to take a panoramic tour of the city, but we quickly learned that means staying on the bus and barely get off. Not good! The few times it stopped they gave us only 5 minutes to get out and take pictures. All of my images, except a few, were taken from the windows of the bus. Not ideal, as I enjoy taking photos and typically want them to look good. Lesson learned, no more panoramic tours ever again.
Stockholm By Land & Sea
Stockholm, Sweden was our next port, and it was a city both Keith, and I enjoyed. We took a bus tour and then a boat tour of the many islands. We opted to stay in the city and explore a bit more on our own. We grabbed lunch at a fancy hotel on the water, wandered into the Old City to check out some shops, grabbed some coffee, and then headed over to see the palace. We didn't feel we had enough time here so we'd love to come back and explore more. Next time we would rent those Lime scooters to get around, which looked like a lot of fun and we saw them in nearly every city we visited.
We had another day at sea, and we used it to visit the spa and do a wine tasting. We were pretty tired, so we used the day to relax and spend time napping.
Cruise Coming To An End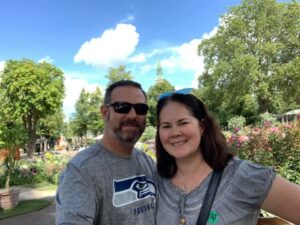 Our last official stop was Copenhagen, Denmark, and personally, it may have been my favorite. We took a tour through the ship which turned out to be pretty good. We stopped at Tivoli Gardens for a few hours to wander the gardens and ride rides if we were so inclined. Then we walked through the city and headed to the middle of town to catch a canal cruise. We saw so many beautiful sights on the water: the opera, the palace, different neighborhoods and more. I can't wait to go back!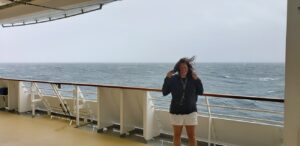 We had one more day at sea, which ended up being a bit rough on the water. We slept well, though. On the cruise we managed to see more shows than average, we watched A Star is Born on the big screen (I balled like a baby!), and we did a sushi-making class.
Amsterdam was our final stop, but we just got off the ship and headed to the airport. We had so much fun on the cruise, but we were ready to head home and see our puppies. If you're considering this cruise, do it, it's great. Feel free to message us if you have any questions.
Where have you cruised that you can't wait to go back?