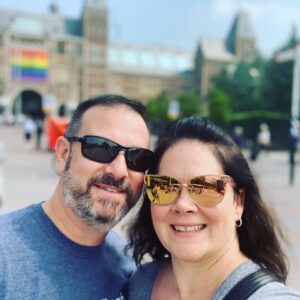 Keith and I arrived in Amsterdam on July 23rd to spend a week before our Royal Caribbean Baltic cruise. Neither Keith nor I had ever been to the city, so we wanted to take some time to enjoy it. Thankfully we managed to find a HomeExchange, so that saved us quite a bit of money.
Once we arrived, we opted to take a Tesla taxi from the airport (it cost us 60 Euros, but it was our first ride in a Tesla). We weren't aware that they were separate from the typical taxi's as that was all that was there when we got in the taxi line. I would have called an Uber, but we had ZERO cell phone service or WiFi. We should have bought an international sim card so we would have had service while there. Lesson learned. You can buy them on Amazon easily and then you don't have to worry about international roaming or data.
On our first day out, we went to the Anne Frank Museum. It was an exciting place to visit, especially if you read her diary. I got a bit choked up walking through the home and knowing what they had to endure - especially knowing the sad and tragic outcome of the Frank family. Make sure you buy your tickets ahead of time and typically a few months in advance. They do release a few more tickets the day of and sometimes a few days before. Initially, we didn't think we would get tickets as they were showing sold out, but I managed to check the day before we left and managed to get two for the 24th.
Booking Tours
I won't bore you with our day to day activities (you can see them on Facebook, along with our pictures, if interested) but we did book several tours through Viator that ended up being helpful and fun. (Email me if you want more details).
We took a few canal rides, saw the Heineken Museum, visited the Van Gogh museum, tried some Space Cakes, took a 3-hour walking tour of the city and one for the red light district. The Red Light District was fascinating and very different than what I had imagined. We even took a trip to the Holland countryside to see windmills and how they make wooden shoes.
All in all, we walked over 35 miles and never once rode a bike. Plus, it's worth mentioning, they had two of their hottest days in history which made for a few uncomfortable days in a city with little A/C.
We Love This City
Amsterdam is a fantastic city that is friendly, progressive, and pretty much everyone speaks English, which makes communicating very easy. The food was amazing, and getting around was easy to do, either by foot, uber, or bike. We see this as a city we would love to go back to and spend more time exploring.
If you haven't been, go, it's a great travel experience!